Hello! Please read my rules before asking to rp!! My OC list is currently under construction, but listed ocs are available to rp!!
Hey! My name is Quinn! I'm 19 y/o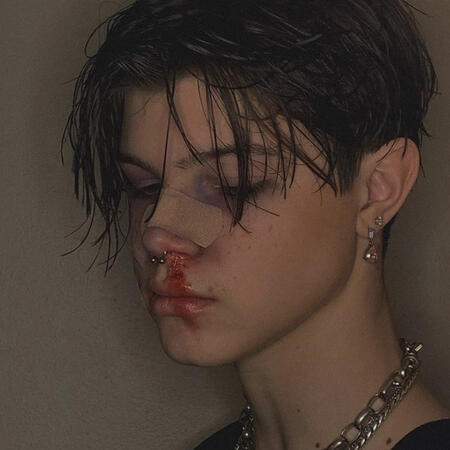 BEAU THOMAS EDWARDS
IDENTITY

AGE: 17 y/o
GENDER: Male
PRONOUNS: He/him/his
SEXUALITY: Bisexual
ZODIAC: Gemini
BLOOD STATUS: Pureblood
HOUSE: Gryffindor
PATRONUS: Dragon
WAND: Rowan with unicorn hair

RELATIONS

MOTHER: Olive Thomas Edwards
FATHER: Dean Beau Edwards
SIBLINGS: n/a
FRIENDS: TBD.

PERSONALITY
POSITIVE: Friendly, protective, loyal, caring
NEGATIVE: Quick to assume, "soft"
HOBBIES: TBD

APPEARANCE
Beau stands at around 5'10 and a half with pale skin and dark brown almost black hair. His eyes are a murky, olive green- almost hazel. He often has bruises or cuts- a result of "protecting" others constantly.
CURRENT ROLEPLAY RULES

.01 : I do not do mature roleplay. asking for 18+ rp will result in an immediate ban

.02 : literate rp only. more than 3 sentences. if busy i understand but please say something

.03 : please tell me if the rp or my responses are boring you! i can fix my responses or we can figure out a new plot

.04 : No mary- sues or gary- sues. If our characters have a fight scene it has to be reasonable and fair! Especially if its a physical fight. No pro spells or curses!

.05 : Dont immediately get into romance! If you want our characters to know eachother before the rp starts we can plan something but I dont like immediately jumping into romance!

.06 : Please give me up until 7 days to respond without a reminder! After the 7 day mark you are free to send a message. I'll do the same unless stated otherwise

.07 : Please give notice if you arent going to be able to respond for a while (if you can!). If you dont want to rp anymore, tell me ! I wont be offended and we can still be friends if you'd like!

.08 : If you would prefer to rp on another form of media (discord, instagram) feel free to ask! I might not be able to on some socials but it doesnt hurt to ask.

.09 : I only rp HP related fandoms! I do have other fandoms like warrior cats, red dead, and attack on titan. But if we rp on Hogwarts is Here it needs to stay HP related!

.10 : My discord is quinn#2088 - please OWL me before adding me or messaging me on there !!

.11 : ask first before major plotline. we are not automatically friends unless agreed upon by both parties. you are also not a family member of my ocs!

CODE IS SILVERVINE